An Amazing Journey: Adventure Edition
A downloadable Minecraft map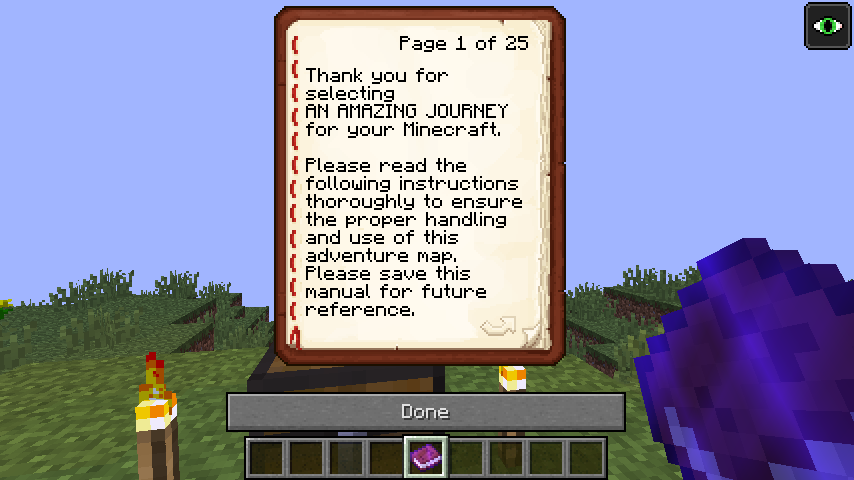 This is my first Minecraft adventure map, originally released back in 2013 and updated significantly throughout the years. In this map, you'll find several mazes inspired by my love of drawing and editing mazes on paper as a kid and the level design of Super Mario 64. You'll also find references to plenty of other games and movies.

Here's a list of what to expect in this map:

7 mazes
Several puzzles scattered throughout the map (this game isn't just about maze completion)
An original story that pulls you along
Interesting characters that communicate with the players through signs and books found in "dialog boxes" (chests)
Over 50 collectables
Played in Adventure mode (with rules)
Multiple players can play (2 recommended at most)
About 2 hours of gameplay (based on my estimates) if you plan on just getting from A to B as quickly as possible
At least 4 hours of gameplay, if you plan on getting all the collectables
A manual that's over 20 pages long (you'll need to read if you want to get anywhere)
Important: The version of the map on this site does not contain the Resource Pack. There is another version of the map on my personal website that does contain the Resource Pack. Don't worry, it's not necessary at all to enjoy the map.

Also Important: This adventure map is for Minecraft 1.12.2 only (for now).

Enjoy and let me know what you think!

Install instructions
Please read the Read Me file within the folder. Then place the Mazes! (No RP) folder within your Minecraft's Saves folder. Make sure you're running the 1.12.2 version of Minecraft before playing.

Download
Download
An Amazing Journey: Adventure Edition (No RP)
31 MB